A good location is always a good decision---especially to an employer who would want to manage time for work and family; manage savings such travel expenses that may be better put into savings. Hence, location plays an important deciding factor when it comes to selection of prospective homes. It is a fact that homebuyers go for a central location which heightens mobility, accessibility and convenience for the benefit of the family or loved ones who stay and wait at home. But more than that, it is the feeling of relaxed and unstressful mind after a work in the office that's most likely to entice homebuyers in choosing their homes. A known and good home address is likewise a plus especially when beginning workers apply to great careers. 

Infina Towers DMCI Homes can be found in Aurora Boulevard, DMCI Homes' premier landbank in the progressive city of Quezon. The area is accessible via EDSA and in fact, a few minutes away from the Makati Central Business District and The Fort Bonifacio Global City. Meanwhile, Ortigas CBD and Quezon City in the north as well as Southern Manila like Paranaque and Alabang are easily accessible through the EDSA and the South Luzon Expressway. A strategic location indeed, Infina Towers Quezon City boasts to its future residents a life undiscovered where everything they need is within reach. 

Hospitals, schools, churches, commercial centers and business districts - what more would you ask for? They are all near Infina Towers in Aurora Boulevard Quezon City. Quezon City is the largest city in Metro Manila in terms of land area and population. But despite all of the city's modernity and sophistication, it has the most remaining natural environment among the cities in the metro. It has existing wildlife sanctuary, parks and wildlife, natural oasis, tree-lined roads, and other nature's wonders that could only be found in the city.The DMCI Infina Towers Quezon City lies near these gift of nature the city has preserved over the years. But the most interesting of this is that the Infina is also near the city's commercial center of Cubao, the place where the Araneta Center, Ali Mall, Smart- Araneta Coliseum, the newly inaugurated bus terminal bound for the Visayas and Mindanao, and the Fiesta Carnival are all located. The Ateneo De Manila University is just a one-ride away from the site, while the University of the Philippines Diliman is just 2km away. The Infina Towers is a condo in Quezon City that truly has it all.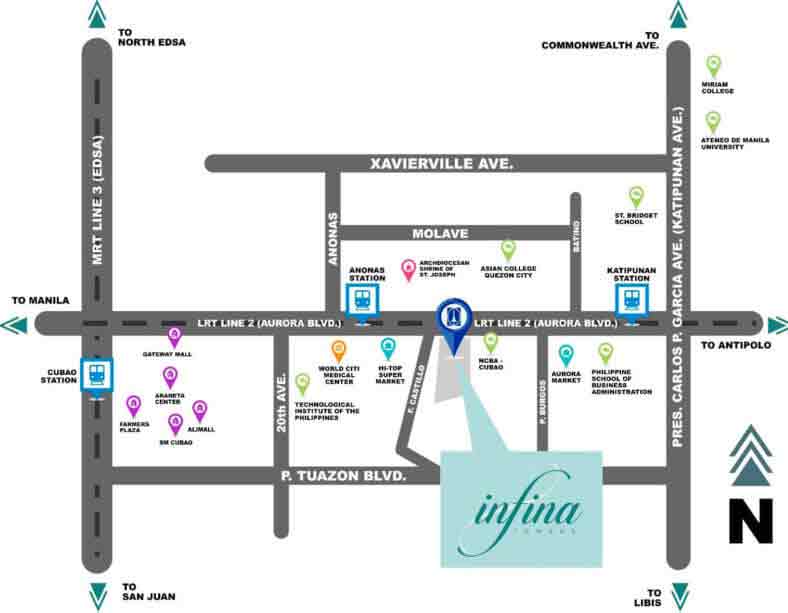 DMCI knows how important a strategic location is in the decision-making process of future homeowners. This is especially true for busy people who would like to manage their time between work and family and other hobbies, as well as yuppies who would like to save up in the long run by slashing off commuting expenses or gas.Infina Towers is located in the North of Metro Manila, but that doesn't mean that you are isolated from where all the good things are. Located in Aurora Boulevard, strategically in the middle of San Juan and just a few minutes away from Araneta Center and Eastwood City Libis, Infina Towers provide you a place where you can be right where you should be when you need to. Additionally, Metro Manila's major business districts of Makati, Ortigas, and Bonifacio Global City are also just a few minutes' drive away.
The location of Infina Towers can easily be accessed via EDSA, and the southern part of Metro Manila like Paranaque and Alabang can also be reached easily via the South Luzon Expressway (SLEX). Slashing on the time spent on the road means more time with family and friends, and enjoy the condominium's amenities better. The location of Infina Towers is just right for people to be able to relax and unwind after a long day of work. Aside from the business districts, Infina Towers' very nice location is also accessible to all the things that the homeowners need like schools, hospitals, shopping malls, public markets, and other various recreation spots. The location is ideal for students who go to the nearby universities in the Katipunan area, such as University of the Philippines Diliman, Ateneo de Manila University, Miriam College, Philippine School of Business Administration, Technological University of the Philippines, La Salle Green Hills, and Xavier School, among others. The National College of Business and Arts is also just a few meters away. As for the malls and supermarkets, Gateway Mall, Riverbank Mall, and Eastwood Mall are just a few kilometers away. If all you need to do is a quick grocery shopping, there is a nearby Hi-Top Supermart, as well as Super Metro Gaisano and the Aurora Market. For emergencies, World Citi Medical Center is less than a kilometer away. Well-known medical institutions such as Cardinal Santos Hospital, The Medical City, and St Luke's Hospital in Quezon city are also just a few minutes away. Surely you will also have no problem in navigating the city, as Infina Towers is just near the LRT 2 Anonas Station, as well as MRT Cubao Station. If you need to go farther out of Metro Manila, the Araneta Center Bus Terminal is also accessible from the place. Additionally, Infina Towers is also near other DMCI developments along Aurora Boulevard—One Castilla Place and The Amaryllis.